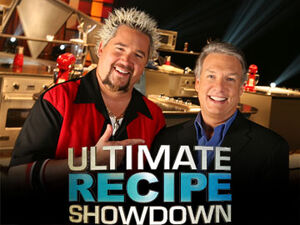 With thousands of recipes submitted from home cooks across America, Ultimate Recipe Showdown returns for its third season of delicious competition as the top 24 contestants slice, dice and battle head-to-head for national glory. Hosted by Guy Fieri (Diners, Drive-ins and Dives, Guy's Big Bite), the series features six categories: Comfort Food; Party Food; Hot & Spicy; Burgers; Cakes & Desserts and Hometown Favorites. Each week, three judges crown an "ultimate" winner who receives $25,000.
External Links
Edit
Ad blocker interference detected!
Wikia is a free-to-use site that makes money from advertising. We have a modified experience for viewers using ad blockers

Wikia is not accessible if you've made further modifications. Remove the custom ad blocker rule(s) and the page will load as expected.