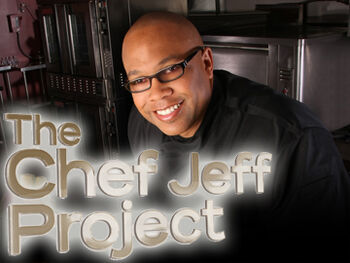 Jeff Henderson grew up on the tough streets of South Central L.A. and San Diego. At 19 he was running a $35,000-a-week cocaine operation. At 24, Jeff was arrested and sent to prison, where he spent the next ten years. While incarcerated, Jeff discovered a passion for cooking and the drive to turn his life around. Jeff became Executive Chef at Café Bellagio in Las Vegas, wrote a bestselling book, and now he is focusing on giving back.
Chef Jeff invites six young adults with similar tumultuous backgrounds to work as his crew for Posh Urban Cuisine for the duration of one month. The format of the reality television program is such that all participants who complete the project are eligible for the Food Network Scholarship to culinary school. The aim of the competition test each individual to the limits and not eliminate the competition; Henderson makes is clear to the competitors that the only way they can lose is if they quit.
External Links
Edit
Ad blocker interference detected!
Wikia is a free-to-use site that makes money from advertising. We have a modified experience for viewers using ad blockers

Wikia is not accessible if you've made further modifications. Remove the custom ad blocker rule(s) and the page will load as expected.