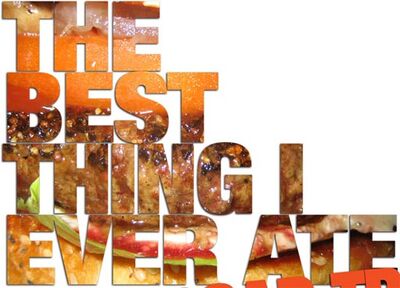 The Best Thing I Ever Ate is a show on Food Network which premiered on June 22, 2009. Originally airing as a one-time special in late 2008, the program consists of chefs and other Food Network celebrities picking out their favorite dishes in specific categories.
Opening Introduction
Edit
"People ask me, email me, Twitter me... "What's your favorite dish?" "Where do you go to eat?" "What's the best thing you've ever had?" And that's why we're here now. Not only to tell you what we love to eat. But where you can go to get it."
Chefs/Hosts
Edit
Episode
Show Number
Topic
Item
Chef/Host
Restaurant
Location
Pilot
EV0100
Pilot
Burnt Ends on Bun
Duff Goldman
Gates Bar-B-Q
Kansas City, MO
Beef Marrow & Oxtail Marmalade
Anne Burrell
Blue Ribbon
New York, NY
Banana Cream Pie
Adam Gertler
Bandera
Los Angeles, CA
Eggs Benedict
Sunny Anderson
Upstairs On the Square
Cambridge, MA
Ebelskivers
Aarón Sanchez
Shopsin's
New York, NY
Toasted Ricotta Gnocchi
Danny Boome
Jane Bistro
New York, NY
Canolli
Alex Guarnaschelli
Caffe Dante
New York, NY
Guinea Hen
Ted Allen
Restaurant Guy Savoy, Caesars Palace
Las Vegas, NV
1
EV0101
Totally Fried
French Fries
Bobby Flay
Balthazar
New York, NY
Deep Fried Hot Dog
Alex Guarnaschelli
Rawley's Drive In
Fairfield, CT
Fried Shrimp Heads
Duff Goldman
Joss Sushi
Annapolis, MD
Made To Order Donuts
Giada De Laurentiis
Lola
Seattle, WA
Tempura Bacon (No longer on menu)
Ted Allen
The Red Cat
New York, NY
Spicy Pork Rinds
Michael Symon
Publican
Chicago, IL
Fried Brussel Sprouts
Aarón Sanchez
Lolita
Cleveland, OH
Mofongo
Guy Fieri
Benny's Seafood
South Miami, FL
2
EV0102
Bar-B-Que
BBQ Beef Brisket
Ted Allen
North Main BBQ
Euless, TX
BBQ Chicken
Adam Gertler
Dinosaur Bar B Que
Syracuse, NY
BBQ Shrimp
Alex Guarnaschelli
Pascal's Manale
New Orleans, LA
BBQ Pulled Pork Sandwich
Tyler Florence
Charlie Vergo's Rendezvous
Memphis, TN
BBQ Pork Ribs
Delilah Winder
Ronnie's Ribs, Wings and Other Things
Richmond, VA
BBQ Beef Ribs
Michael Symon
Daisy May's
New York, NY
Baked BBQ Pork Buns
Chris Cosentino
Yank Sing
San Francisco, CA
BBQ Combo Plate and BBQ Beef Ribs
Duff Goldman and Bobby Flay
The Salt Lick
Driftwood, TX
3
EV0103
With Bacon
Bacon Burger
Guy Fieri
Hodad's
San Diego, CA
Office Burger
Adam Gertler
Father's Office
Los Angeles, CA
House Smoked Bacon Flatbread
Aida Mollenkamp
Nopa
San Francisco, CA
Salumi Cone
Tyler Florence
Boccalone Salumeria
San Francisco, CA
Bacon Apple Maple Donuts
Chris Consentino
Dynamo Donut & Coffee
San Francisco, CA
BLT
Ted Allen
Choice Market
Brooklyn, NY
Angry Mussels
Delilah Wilder
JCT Kitchen
Atlanta, GA
Bacon Chocolate Crunch Bar
Duff Goldman
Animal
Los Angeles, CA
4
EV0104
Sugar Rush
CMP (Chocolate Marshmallow & Peanuts)
Duff Goldman
Woodberry Kitchen
Baltimore, MD
Sam's Sundae
Aida Mollenkamp
Bi-Rite Creamery
San Francisco, CA
Toasted Marshmallow Shake
Michael Symon
Stand (Closed)
New York, NY
Chocolate Bar Dessert
Cat Cora
Tru
Chicago, IL
Golden Delicious Apple Tart
Alex Guarnaschelli
Al Forno
Providence, RI
S'Mores
Sandra Lee
Luna Park
Los Angeles, CA
Pecan Pie
John T. Edge
Brigtsen's Restaurant
New Orleans, LA
Chocolate Hazelnut Purse
Giada De Laurentiis
Riva Restaurant
Santa Monica, CA
5
EV0105
Pizza
Arugula & Parmesan Pizza
Ted Allen
Graziella's
Brooklyn, NY
Sausage Patty Style Pizza
Duff Goldman
Gino's East
Chicago, IL
Yukon Gold Potato Pizza
Alex Guarnaschelli
Five Points
New York, NY
Breakfast Pizza
Adam Gertler
Little Dom's
Los Angeles, CA
Rosa Pizza
John T. Edge
Pizzeria Bianco
Phoenix, AZ
Chocolate Pizza
Aarón Sanchez
Max Brenner
New York, NY
Margherita Pizza
Marc Summers
Osteria
Philadelphia, PA
Roasted Chanterelles Truffle Cheese Pizza
Tyler Florence
Serious Pie
Seattle, WA
6
EV0106
Obsessions
Stone Crabs
Bobby Flay
Joe's Stone Crab
Miami, FL
Creamy Rice
Aaron Sanchez
Zarela
New York, NY
New York Strip Steak
Cat Cora
Lucky's
Montecito, CA
Fried Buffalo Wings
Aaron McCargo Jr.
The Jug Handle Inn
Cinnaminson, NJ
Linguini With Clams And Mussels In Saffron Broth
Danny Boome
Tree Bistro
New York, NY
Kumamoto Oysters
Tyler Florence
Hog Island Oyster Co.
San Francisco, CA
Triple Coconut Cream Pie
Delilah Wilder
Ritz Seafood
Voorhees, NJ
Lemon-Scallion Dungeness Crab Cakes
Giada DeLaurentiis
Dahlia Lounge
Seattle, WA
7
EV0107
Wake Up Call
Peanut Butter & Banana Stuffed French Toast
Bobby Flay
Café 222
San Diego, CA
Cinnamon Rolls
Ted Allen
Ann Sather
Chicago, IL
Ricotta Blueberry Pancakes
Aida Mollenkamp
BLD
Los Angeles, CA
Wicked Spicy Hot Chocolate
Giada De Laurentiis
Jacques Torres
New York, NY
The Chop & Chick
Guy Fieri
Matt's Big Breakfast
Phoenix, AZ
Pasta Mama
Susan Feniger
Hugo's
Los Angeles, CA
Corned Beef Hash
Michael Symon
Big Al's Diner
Cleveland, OH
Huevos Montelenos
Duff Goldman
Golden West Café
Baltimore, MD
8
EV0108
Between Bread
Polish Boy
Michael Symon
Seti's Truck
Cleveland, OH
Classic Bánh Mì & Pork Chop Bánh Mì
Anne Burrell & Aaron Sanchez
Nicky's Vietnamese Sandwiches
New York, NY
Steakburger
Marc Summers
Steak 'n Shake
Various locations
#19-Pastrami Sandwich
Adam Gertler
Langer's Deli
Los Angeles, CA
Bacon & Marmalade Sandwich
Chris Cosentino
Prune
New York, NY
Cheese Steak
Aaron McCargo Jr.
Carmen's Deli
Bellmawr, NJ
Cheese Steak
Aaron McCargo Jr.
Yellow Submarine
Maple Shade, NJ
Godmother Sandwich
Susan Feniger & Mary Sue Milliken
Bay Cities Italian Deli & Bakery
Santa Monica, CA
52Chaps Submarine
Guy Fieri & Duff Goldman
Chap's Pit Beef
Baltimore, MD
9
EV0109
With My Hands
Fried Chicken
Guy Fieri
Uncle Lou's
Memphis, TN
Panzarotti
Aaron McCargo Jr.
Panzarotti Pizza King
Camden, NJ
Sliders (Cheeseburgers)
Michael Psilakis
White Manna
Hackensack, NJ
Dip Sum Donuts
Marc Summers
Buddakan
Philadelphia, PA
Deviled Eggs & Devils on Horseback
Danny Boome
The Spotted Pig
New York, NY
Tacos
Aarón Sanchez
Chico's Tacos
El Paso, TX
Chocolate Coconut Cupcake
Alex Guarnaschelli
Joan's on Third
Los Angeles, CA
Pupusa
Mary Sue Milliken
Sarita's Pupuseria
Los Angeles, CA
10
EV0110
Filled With Envy
An's Famous Garlic Noodles
Duff Goldman
Crustacean
Beverly Hills, CA
Salmon Rillettes (Rillettes Aux Deux Saumons)
Bouchon
Yountville, CA
Spicy Broccoli
Olives, W Hotel
New York, NY
Carne Asada A La Oxaquena
Frontera Grill
Chicago, IL
Orecchiette
Michael Pslakis
I Trulli
New York, NY
Roasted Cauliflower & Wild Mushroom Soup
Bolete
Bethlehem, PA
Warm Sea Urchin with Dungeness Crab
Aida Mollenkamp
Anchor & Hope
San Francisco, CA
Shanghai Lobster
Sandra Lee
Chinois on Main
Santa Monica, CA
Season 2
Edit
Episode
Show Number
Topic
Item
Chef/Host
Restaurant
Location
1
EV201
Holiday
Barbecue
Beachcomber BBQ & Grill
St. Simons Island, GA
Seafood Cobb Salad
Tyler Florence
The Rotunda at Neiman-Marcus
San Francisco, CA
Elvis Panini
The Patterson House
Nashville, TN
Pannetone Milanese
Giada De Laurentiis
Emporio Rulli
Larkspur, CA
Saffron Bigoli with Duck Ragou
Art Smith
Boka Restaurant
Chicago, IL
Warm Indian Pudding
Alex Guarnaschelli
The Colonial Inn
Concord, MA
Pernil
Casa Adela
New York City, NY
Peking Duck
Duff Goldman
Peking Gourmet Inn
Falls Church, VA
2
EV202
Hometown Favorites
Burger
Umami Burger
Hollywood, CA
Cosmic Dog
Jack's Cosmic Dog
Mt. Pleasant, SC
Sweet Potato Cobbler
Pat and Gina Neely
Alcenia's
Memphis, TN
Stuffed Quahog
Marshland
Sandwich, MA
Pasta Bolognese
Vine Street Cafe
Shelter Island, NY
Spinach Pizza
Chefs of New York
East Northport, NY
Hash
Duke's Bar B-Que
Orangeburg, SC
Kale Soup
St. John's Club
Fall River, MA
3
EV203
Cheesy
Grilled Cheese Sandwich
Ina Garten
E.A.T.
New York City, NY
French Onion Soup
Beau MacMillan
Zinc Bistro
Scottsdale, AZ
Cheeseburger
Shady Glen Dairy
Manchester, CT
Macaroni and Cheese
Sunny Anderson
Cafe des Artistes
Los Angeles, CA
Cheese Fondue
Artisanal Bistro
New York City, NY
Cheese Souffle
Alex Guarnaschelli
Le Goulue
Bal Harbour, FL
Crabmeat Au Gratin
John Besh
Bon Ton Cafe
New Orleans, LA
Lasagna Verde
Giada De Laurentiis
Angelini Osteria
Los Angeles, CA
4
EV204
Salty Goodness
Egg and Pork Belly Confit
Tyler Florence
Bottega
Yountville, CA
Kouing Aman
Les Madeleines
Salt Lake City, UT
Caesar Salad
Alex Guarnaschelli
Pietro's
New York City, NY
Fried Country Ham
Alton Brown
The Dillard House
Dillard, GA
Tsar Nicoulai Sampler
Aarón Sanchez
Tsar Nicoulai, Ferry Building
San Francisco, CA
Sweet and Salty Brownie
Claire Robinson
Baked
Brooklyn, NY
Cyprus Breakfast
Kanella
Philadelphia, PA
Beef Jerky
Michael Symon
Czuchraj Meats
Cleveland, OH
5
EV205
Meat-Fest
Leg of Beast
Aarón Sanchez
Incanto
San Francisco, CA
Bar-B-Q Beef Sandwich
Cat Cora
Cold Spring Tavern
Santa Barbara, CA
Roast Suckling Pig
Adam Gertler
Amada
Philadelphia, PA
Lamb Shank
Sardinia Enoteca Restaurante
Miami Beach, FL
Costina
Salumeria Rosi Parmacotto
New York City, NY
The No. 7 Half Chicken
Ted Allen
No. 7
Brooklyn, NY
Italian Beef and Sausage Sandwich
Joe Boston's Italian Beef
Chicago, IL
Large Format Feast
Resto
New York City, NY
6
EV206
Snack Attack
Pickles
Ted Allen
McClure's Pickles
Troy, MI
Halfsteak Nachos (No longer on menu)
Anne Burrell
Craftsteak
New York City, NY
Donut Muffin
Downtown Bakery
Healdsburg, CA
Fish Tacos
Paia Fish Market
Paia, HI
Korean Short Rib Tacos*
Kogi BBQ
Los Angeles, CA
Shrimp and Heirloom Tomato Pizzette
Socca
Chicago, IL
Lamb Skewers
Alex Guarnaschelli
A.O.C.
Los Angeles, CA
Bar Nuts
Giada De Laurentiis
Union Square Cafe
New York City, NY
7
EV207
Chocolate
Chocolate Pudding
Hominy Grill
Charleston, SC
Chocolate Souffle
Alex Guarnaschelli
Smore Pie
Buckeye Roadhouse
Mill Valley, CA
Chicken Mole
Loteria Grill
Los Angeles, CA
Creme Brulee Chocolate
Kee's Chocolates
New York City, NY
Dark Chocolate Chocolate Chip Cookies
Levain Bakery
New York City, NY
White Chocolate Flan
May Street Bakery
Chicago, IL
Chocolate Tasting Menu
Aarón Sanchez
Jean Georges
New York City, NY
8
EV208
Crunchy
Onion Rings
Akasha
Culver City, CA
Fried Chicken
Blue Ribbon at Brooklyn Bowl
Brooklyn, NY
Indonesian Corn Fritters
Brian Boitano
E&O Trading Company
San Francisco, CA
Peach Raspberry Crumb Pie
Beach Bakery Cafe
Westhampton Beach, NY
Egg Rolls
Chinatown Brasserie
New York City, NY
Caramel Corn
Arclight Cinemas
Los Angeles, CA
Fried Clam's On Roll
Flo's Clam Shack
Middletown, RI
Fish and Chips
Flo's Clam Shack
Middletown, RI
Black Bass
Le Bernardin
New York City, NY
9
EV209
The Classics
Chicken Pot Pie
Giada De Laurentiis
WoodSpoon
Los Angeles, CA
Banana Cupcakes
Ted Allen
Butter Lane
New York City, NY
Mashed Potatoes
Robert Irvine
Parc
Philadelphia, PA
Chili Dog
Marc Summers
Carneys
Los Angeles, CA
Blackened Louisiana Drum
Aaron Sanchez
K-Paul's Louisiana Kitchen
New Orleans, LA
Meatloaf
The 1770 House
East Hampton, NY
Prime Rib
Brian Boitano
House of Prime Rib
San Francisco, CA
Veal Parmigiano
Emeril Lagasse
Il Vagabondo
New York City, NY
10
EV210
Guilty Pleasures
Gravy Frites
Michael Symon
The Greenhouse Tavern
Cleveland, OH
Bread Pudding
Mother's Restaurant
New Orleans, LA
Clam Chowdah
Beau MacMillan
Cabby Shack
Plymouth, MA
Strip House Chocolate Cake
Michael Psilakis
Strip House Steak House
New York City, NY
Quiche Lorraine
Donatella Arpaia
Bouchon Bakery
New York City, NY
Surf & Turf
Restaurant Iris
Memphis, TN
Bar B Q Pizza
Pete and Sam's Restaurant
Memphis, TN
Baltimore Bomb Pie
Duff Goldman
Dangerously Delicious Pies
Baltimore, MD
11
EV211
Hot & Spicy
Hot and Spicy Crab
Penang Garden
San Francisco, CA
Jambalaya Pasta
Raz'z Bar and Grill
Nashville, TN
Queen City Cayenne Ice Cream
Jeni's Ice Cream
Columbus, OH
Crying Tiger Pork
Curtis Stone
Jitlada
Los Angeles, CA
Shrimp and Swordfish Curry
Loaves & Fishes
Sagaponack, NY
Rice Noodles with Hominy, Kimchi, and Spicy Pork Broth
Urban Belly
Chicago, IL
Shrimp Cocktail
Ray Lampe
St. Elmo's Steak House
Indianapolis, IN
Mircha Ka Salan
Devi
New York City, NY
12
EV212
Totally Unexpected
Sage and Bleu Cheese Guacamole
Michael Symon
Lopez Southwestern Kitchen
Cleveland, OH
Deep Fried Candy Bar
Sunny Anderson
A Salt & Battery
New York City, NY
Eggs Rose
Cat Cora
D'Angelo Bread
Santa Barbara, CA
Prosciutto Ice Cream
Chris Cosentino
Humphry Slocombe
San Francisco, CA
Liverwurst
The Modern
New York City, NY
Soutzoukakia
Evvia Estiatorrio
Palo Alto, CA
Glazed Eel
Claire Robinson
The Monday Room
New York City, NY
Fried Black-Eyed Peas
Alton Brown
Relish
Roswell, GA
13
EV213
Chilled Perfection
SRG Eskimo Bars
Giada De Laurentiis
Snake River Grill
Jackson Hole, WY
Liliko'i Creme Brulee
Mama's Fish House
Paia, HI
Lemon Ice Box Pie
Crystal Grill
Greenwood, MS
Fire and Ice Ceviche
Ola @ The Sanctuary Hotel
Miami Beach, FL
Ice Cream Sandwich
Piatianni Ristorante
Brooklyn, NY
Egg Salad Sandwich
Euro Pane
Pasadena, CA
Fluent in French Toast Rice Pudding
Rice to Riches
New York City, NY
Lobster Roll
Duff Goldman
PJ's Family Restaurant
Wellfleet, MA
Season 3
Edit
Episode
Show Number
Topic
Item
Chef/Host
Restaurant
Location
1
EV301
Grilled
Mongolian Pork Chop
Mustard's Grill
Napa, CA
Grilled Oysters
Drago's Seafood Restaurant
Metairie, LA
Australian Lamb Chops
Rathbun's
Atlanta, GA
Tomahawk Chop
Lonesome Dove Western Bistro
Fort Worth, TX
Grilled Filet of Beef with Crusted Coffee Adobado
Michael Chiarello
RDG Grill + Bar Annie
Houston, TX
Korean BBQ Beef Short Ribs
Beau MacMillan
Chosun Galbee
Los Angeles, CA
Grilled Diver Scallops
Cat Cora
The Ranch House
Ojai, CA
Pork Rib Tips
Tom's Bar B Q & Deli
Memphis, TN
2
EV302
Simply Irresistible
Sticky Buns
Bobby Flay
Flour Bakery & Cafe
Boston, MA
Spicy Sweet Potato Fries
Cat Cora
Beano's Cabin
Avon, CO
Grilled Cheese with Short Ribs
The Foundry on Melrose
Los Angeles, CA
Toro Tartare
Morimoto
New York, NY
Boudin Sausage
Cochon Butcher
New Orleans, LA
Whole Roasted Chicken
Craigie on Main
Cambridge, MA
Red Wattle Country Chop
Vinegar Hill House
Brooklyn, NY
Crab Cioppino
Duarte's Tavern
Pescadero, CA
3
EV303
Regional Favorites
Pierogi
Michael Symon
Sokolowski's
Cleveland, OH
Shrimp Po Boy
Domilise's Restaurant
New Orleans, LA
Boston Cream Pie
Beau MacMillan
Omni Parker House
Boston, MA
Pimento Cheese with Flatbread
Tyler Florence
Magnolias
Charleston, SC
Cheesesteak
Marc Summers
Tony Luke's
Philadelphia, PA
Shore Dinner
Young's Lobster Pound
Belfast, ME
Musubi
Aida Mollenkamp
Mana Bu's
Honolulu, HI
Hot Wieners
Olneyville NY System
Providence, RI
4
EV304
Sweet Tooth
Concrete (Frozen Custard)
Bobby Flay
Ted Drewes
Saint Louis, MO
PB&J Doughnut
Pat Neely and Gina Neely
Doughnut Plant
New York, NY
Passion Fruit Trifle
Robert Irvine
Atlantic Seafood Company
Alpharetta, GA
Vanilla Cream Meringue Cake (Meringata Alla Crema)
Claire Robinson
Cipriani
New York, NY
Nutella Crepe with Strawberry & Banana
FlipHappy Crepes
Austin, TX
Sant Ambroeus (Chocolate Mousse Cake)
Rocco Dispirito
Sant Ambroeus
New York, NY
Double Pain Au Chocolat
David Myers
Tartine Bakery
San Francisco, CA
Popcorn & Peanuts
Michael Symon
Michael's Genuine
Miami, FL
Tangerine Creamsicle/Homemade Poptarts
Scott Conant
Michael's Genuine
Miami, FL
Homemade Poptarts
Frank Bruni
Michael's Genuine
Miami, FL
5
EV305
Burgers
Cheeseburger
J.G. Melon
New York, NY
Buffalo Style Burger Crunchified
Bobby's Burger Palace
Paramus, NJ
Cricket Burger with Green Chili
The Cherry Cricket
Denver, CO
Phat Burger with Bacon and Cheese
Pearl's Phat Burgers
Mill Valley, CA
Double Cheeseburger
Anne Burrell
Holeman & Finch Public House
Atlanta, GA
Chargrilled Lamb Burger
The Breslin
New York, NY
The Original Burger
Louis' Lunch
New Haven, CT
Farmhouse Veggie Burger
Duff Goldman
Farm Cafe
Portland, OR
6
EV306
Appetizers
Lasagnette con Ragu di Crostacei
Bartolotta
Las Vegas, NV
French Onion Soup Dumplings
Claire Robinson
The Stanton Social
New York, NY
Shrimp and Alligator Sausage Cheesecake
Jacques-Imo's Café
New Orleans, LA
Popovers
Tyler Florence
BLT Steak
New York, NY
Egg Yolk Carpaccio
Scott Conant
Sra. Martinez
Miami, FL
Hot Potato Cold Potato
Ted Allen
Alinea
Chicago, IL
Calamari
Purple Café and Wine Bar
Kirkland, WA
Burgundy Snails
Duff Goldman
Charleston
Baltimore, MD
7
EV307
In a Bowl
Hand Pulled Noodles with Beef
Guy Fieri
Tasty Hand-Pulled Noodle
New York, NY
Chorizo-Stuffed Dates
Avec
Chicago, IL
Potato Gnocchi with Blue Crab and Perigold Truffle
Restaurant August
New Orleans, LA
Tiramisu A La Mexicana
Robert Irvine
Lolita
Philadelphia, PA
Ukrainian Borscht
Ted Allen
Veselka
New York, NY
Organic Granola with Fruit & Straus Organic Yogurt
Tyler Florence
Cafe Fanny
Berkeley, CA
Mushroom Miso Soup
Alex Guarnaschelli
Miyake Restaurant
Portland, ME
Chili
Sunny Anderson
Real Chili
Milwaukee, WI
Chili
Duff Goldman
National Coney Island
Detroit, MI
8
EV308
Hidden Treasures
Grilled Cheese & Tomato Soup
Tyler Florence
Muir Woods Trading Company Cafe
Mill Valley, CA
Lau Lau
Sunny Anderson
Kaaloa's Super Js
Captain Cook, HI
Falafel Omelet Hoagie
Robert Irvine
A&M Halal
Philadelphia, PA
Sizzling Bacon
Michael Psilakis
Peter Luger Steakhouse
Brooklyn, NY
Paris Texas Tacos
Good To Go Tacos
Dallas, TX
Burger
Cat Cora
The Hitching Post II
Buellton, CA
Kalamata
Queen Creek Olive Mill
Queen Creek, AZ
Fried Chicken
Ted Allen
Table 52
Chicago, IL
9
EV309
Sauced
Spaghetti
Scarpetta
New York, NY
Sticky Toffee Pudding with Bourbon Ice Cream
Claire Robinson
Colt and Gray
Denver, CO
Hanger Steak with Agrodolce Sauce
FIG
Charleston, SC
Rib Tips
Guy Fieri
Daddy Dz BBQ
Atlanta, GA
Comeback Sauce
Mayflower Cafe
Jackson, MS
Linguini with Clams
Don Pepe's Vesuvio
Ozone Park, NY
Duck in Red Peanut Mole Sauce
Topolobampo
Chicago, IL
Fish with Tamarind Sauce
Duff Goldman
Ambassador Dining Room
Baltimore, MD
10
EV310
With Fruit
Green Papaya Salad
Chris Cosentino
Out The Door
San Francisco, CA
Apple Strudel
Aida Mollenkamp
Schmidt's
San Francisco, CA
Candied Orange Peel/Chocolate
Pat Neely and Gina Neely
Cristina's Restaurant
Ketchum, ID
Poco Carretto Fruit Sorbet
Melissa D'Arabian
Cafe Juanita
Kirkland, WA
Bananas Foster Cake
Jeff Henderson
Bradley Ogden
Las Vegas, NV
Guava Pastries
Aarón Sanchez
Versailles
Miami, FL
Fried Pineapple-Wrapped Speck
Michael Chiarello
Frasca
Boulder, CO
Duck Breast with Fruit Compote
Ted Allen
Locanda Vini & Olli
Brooklyn, NY
11
EV311
Sliced
Colatura Di Alici Pizza
Rachael Ray
Motorino
Brooklyn, NY
Olallieberry Pie
Marc Summers
Linn's of Cambria
Cambria, CA
Gyro with Feta Cream Sauce
Cat Cora
Keifers Restaurant
Jackson, MS
BLT Salad with Fried Green Tomatoes
Aaron Sanchez
The Olde Pink House
Savannah, GA
Gaspe Nove
Michael Psilakis
Russ & Daughters
New York, NY
Smetannik (Sour Cream Cake)
Alex Guarnaschelli
Bakery La Brioche Cafe
New York, NY
Grilled Mushroom Stack
Frank Bruni
O-Ya Restaurant
Boston, MA
Charcuterie de la Maison
Duff Goldman
Church & State
Los Angeles, CA
12
EV312
Last Supper
Chef's Pasta Tasting Menu
Michael Symon
Vetri Ristorante
Philadelphia, PA
Oysters & Pearls
Cat Cora
French Laundry
Yountville, CA
Lobster Tail & Sfogliatella
Alex Guarnaschelli
Ferrara Bakery
New York, NY
Pressed Duck (No longer on menu.)
Ted Allen
Daniel NYC
New York, NY
Chopped Pork BBQ Sandwich
Paynes BBQ
Memphis, TN
Pizza
Rocco Dispirito
Umberto's of New Hyde Park
New Hyde Park, NY
Pan-Fried Chicken
Simon Majumdar
Stroud's Restaurant & Bar
Fairway, KS
13
EV313
Best Thing I Ever Drank
Lime Fizz
Michael Symon
Velvet Tango Room
Cleveland, OH
Grapefruit Margarita
Claire Robinson
Barrio Chino
New York, NY
Lobster Scallion Shooters
Melissa D'Arabian
Abacus
Dallas, TX
Irish Coffee
Tyler Florence
The Buena Vista Cafe
San Francisco, CA
Kyoto Ice Coffee
Chris Cosentino
Blue Bottle Coffee Company
Oakland, CA
Gin Blossom
Clover Club
Brooklyn, NY
Herbaceous Mojito
Anne Burrell
Daddy O's Bar
New York, NY
Chocolate Soda
Marc Summers
The Franklin Fountain Ice Cream
Philadelphia, PA
Egyptian Egg Soda
Duff Goldman
The Franklin Fountain Ice Cream
Philadelphia, PA
Season 4
Edit
Episode
Show Number
Topic
Item
Chef/Host
Restaurant
Location
1
EV0401
Close to Home
Harvest Pizza
Rachael Ray
The Harvest
Queensbury, NY
Char Dog
Ted Allen
The Wiener's Circle
Chicago, IL
Beef Machaca
Aaron Sanchez
Kiki's Mexican Restaurant
El Paso, TX
Whole Branzino Roasted in Sea Salt
Angelini Osteria
Los Angeles, CA
Coconut Layer Cake
Anne Burrell
Smith & Wollensky
New York, NY
Peppered Beef Sandwich
Marc Summers
Shapiro's Deli
Indianapolis, IN
English Muffins
Michael Chiarello
Model Bakery
St. Helena, CA
French Onion Soup
Guy Fieri
Cricklewood
Santa Rosa, CA
2
EV0402
Bang for the Buck
French Dipped Sandwiches
Wolfgang Puck
Philippe, The Original
Los Angeles, CA
$6 Breakfast Happy Hour (Cured Pork Cheeks Confit Hash)
Melissa d'Arabian
Toulouse Petit
Seattle, WA
$15 Chef's Tasting Menu (Four Courses)
Chris Cosentino
Mr. Pollo
San Francisco, CA
$15 Steak Dinner (Monday Night Special)
Gina Neely & Pat Neely
The Butcher Shop Steak House
Memphis, TN
The Gambler's Special
Eric Greenspan
Mr. Lucky's 24/7
Las Vegas, NV
Sticky Buns
Beau MacMillan
El Chorro Lodge
Paradise Valley, AZ
Philly Cheese Steak Sandwiches
Troy Johnson
Donovan's Steak & Chop House
San Diego, CA
Bibim-Bop
Alton Brown
Hankook Taqueria
Atlanta, GA
3
EV0403
Nutty
White Chocolate Pretzel Peanut Spread
Tyler Florence
Spread
San Diego, CA
Knafeh
Sunny Anderson
Tanoreen
Brooklyn, NY
Marzipan
Ted Allen
Swedish Bakery
Chicago, IL
Boston Bibb & Mache Salad
Duff Goldman
Figs
Charlestown, MA
Dark Chocolate Dixies
Alex Guarnaschelli
Richardson' Candy Kitchen
Deerfield, MA
Aji De Gallina
Giada De Laurentiis
Mo-Chica
Los Angeles, CA
Butter Pecan Ice Cream
Michael Psilakis
Brooklyn Ice Cream Factory
Brooklyn, NY
Coffee Macaron
Wolfgang Puck
Payard Patisserie
Las Vegas, NV
4
EV0404
Brisket
Duff Goldman
Edmart Deli
Pikesville, MD
Noodle Kugel
Ted Allen
Manny's Cafeteria and Delicatessen
Chicago, IL
Jimmy's Favorite
Claire Robinson
Jimmy & Drew's
Boulder, CO
Corned Beef Sandwich
Marc Summers
Brent's Delicatessen and Restaurant
Northridge, CA
Junk Yard Special
Adam Gertler
Sarcone's Deli
Philadelphia, PA
Everything Bagel
Rocco Dispirito
Tal Bagels
New York, NY
Beef on Weck
Geoffrey Zakarian
Charlie the Butcher's Kitchen
Williamsville, NY
Chopped Herring Salad Sandwich
Alton Brown
Barney Greengrass
New York, NY
5
EV0405
Under Wraps
Crepes
Alton Brown
Creperie Beau Monde
Philadelphia, PA
Bacon Wrapped Lamb Chops
Rocco Dispirito
Employees Only
New York, NY
Agnolotti
Sunny Anderson
Veni Vidi Vici
Atlanta, GA
Basteeya
Chris Cosentino
Aziza
San Francisco, CA
Ripienone Calzone
Scott Conant
Fratelli La Bufala
Miami, FL
Dolmades Yialantzi
Alex Guarnaschelli
Agnanti Restaurant
Astoria, NY
Squab with Lettuce
Chuck Hughes
Mr. Chow
Miami, FL
Chicken Tamales
Duff Goldman
Dorothy's Homemade Tamales
Hartsel, CO
6
EV0406
Cake Walk
Southern Red Velvet Cake
Ted Allen
Cake Man Raven
Brooklyn, NY
Mondrian Cake
Chris Cosentino
Blue Bottle Coffee at the SFMOMA Rooftop Sculpture Garden
San Francisco, CA
Hoecakes
Tyler Florence
The Lady & Sons
Savannah, GA
Flourless Chocolate Cake
Aaron Sanchez
Cake Flour
Louisville, KY
Carmel Pecan Pound Cake
Chambers Cakes & Cookies
Kansas City, MO
Dulce De Leche Cake
Marcela Valladolid
Extraordinary Desserts
San Diego, CA
Whoopie Pie
Chuck Hughes
Two Fat Cats Bakery
Portland, ME
7
EV0407
With Chopsticks
Drunken Noodles with Chicken
Giada De Laurentiis
Wazuzu
Las Vegas, NV
A&M Crispy Beef
Duff Goldman
Cafe Zen
Baltimore, MD
Crispy Calamari Salad
Anne Burrell
The Continental
Philadelphia, PA
Akamaru Modern Ramen
Claire Robinson
Ippudo
New York, NY
Tempura Alaskan King Crab
Beau MacMillan
Yellowtail
Las Vegas, NV
Slippery Shrimp
Adam Gertler
Yang Chow
Los Angeles, CA
Crispy Lamb Filets with Chili Cumin
Frank Bruni
Szechuan Gourmet
New York, NY
Mock Eel
Alton Brown
A Single Pebble
Burlington, VT
8
EV0408
That I'm Thankful For
Pulled Turkey Sandwich
Claire Robinson
Hog Heaven
Nashville, TN
Sweet Potato Cheesecake
Jeff Henderson
Harriet's Cheesecakes
Inglewood, CA
Cranberry Preserves
Gina Neely & Pat Neely
Three Square Grill
Portland, OR
Three-Course Turkey Dinner
Michael Psilakis
Gotham Bar and Grill
New York, NY
Turkey Terrific Sandwich
Alex Guarnaschelli
Provisions
Nantucket, MA
Mandoo Vegetable Dumplings
Cat Cora
Susan Feniger's Street
Los Angeles, CA
Smashing Pumpkin Martini
Troy Johnson
Grant Grill
San Diego, CA
Victoria Sandwich Cake
Robert Irvine
Tea & Sympathy
New York, NY
9
EV0409
Crazy Good
White Truffle Tagliatelle
Wolfgang Puck
Valentino
Santa Monica, CA
Pizza with Mushrooms & Garlic
Sunny Anderson
Di Fara Pizza
Brooklyn, NY
Maple Budino
Frank Bruni
Locanda Verde
New York, NY
Banana Special
Duff Goldman
Fentons Creamery
Oakland, CA
Pot Roast
Rocco DiSpirito
Jar
Los Angeles, CA
Marin Joe's Special: Hamburger, Spinach & Egg
Tyler Florence
Marin Joe's
Corte Madera, CA
Roast Duck
Simon Majumdar
Upperline Restaurant
New Orleans, LA
Matterhorn Cake
Giada De Laurentiis
Sweet Surrender
Bakersfield, CA
10
EV0410
With Garlic
Plague Bringer Burger
Adam Gertler
Kuma's Corner
Chicago, IL
Spaghetti with Roasted Garlic Sauce
Melissa d'Arabian
Bove's Cafe
Burlington, VT
Garlic Bread
Alex Guarnaschelli
Rosario's Ristorante
Boca Raton, FL
Garlic Soup
Simon Majumdar
Bayona
New Orleans, LA
Knoblewurst
Michael Psilakis
Katz's Deli
New York, NY
Garlic Shrimp
Rocco DiSpirito
Schiller's Liquor Bar
New York, NY
Garlic Naan
Eric Greenspan
Al-Noor
Lawndale, CA
Half Chicken with Garlic Sauce
Duff Goldman
Zankou Chicken
Los Angeles, CA
11
EV0411
I Ever Made For The Holidays
Multiple Recipes By Hosts
No restaurants
No locations
12
EV0412
On A Stick
Mexican Grilled Corn
Tyler Florence
Cafe Habana
New York, NY
Lollipop Trio
Adam Gertler
Stefan's at L.A. Farm
Santa Monica, CA
Corn Dog (Memorial Day, Fourth of July, and Labor Day only)
Claire Robinson
Shake Shack
Miami, FL
New York, NY
Washington, DC
Strawberry Ice Pop
Cat Cora
Mandarina (Closed)
San Francisco, CA
Chao Tom (Sugarcane Shrimp)
Simon Majumdar
Golden Deli
San Gabriel, CA
Caramel Apple
Alex Guarnaschelli
Charleston's Candy Kitchen
Charleston, SC
Meat Ball Yakitori (Chicken Meat Ball)
David Myers
Yakitoria
Los Angeles, CA
Insalata Caprese Injection
Giada De Laurentis
Minibar
Washington, DC
13
EV0413
For Brunch
Haute Pocket
Claire Robinson
Table 6
Denver, CO
Chocolate Decadence French Toast
Alex Guarnaschelli
Norma's
New York, NY
Waffle Dogs
Beau MacMillan
Over Easy
Scottsdale, AZ
Menudo
Aaron Sanchez
Garcia's Cafe
Carbondale, CO
Croque Monsieur
Frank Bruni
Bar Boulud
New York, NY
Bacon with Cheese Oven Baked Omelette
Melissa d'Arabian
Walker Bros.: The Original Pancake House
Chicago, IL
Chilaquiles
Marcela Valladolid
Talavera Azul
Chula Vista, CA
Crab Cakes
Duff Goldman
Pierpoint Restaurant
Baltimore, MD
14
EV0414
Reinvented Classics
The Crab Roll
Tyler Florence
Fish
Sausalito, CA
Lobster Pot Pie
Cat Cora
Academe Maine Brasserie & Tavern
Kennebunk, ME
Devil-ish Eggs
Robert Irvine
Founding Farmers
Washington, DC
Cheesecake Lollipop Tree
Scott Conant
David Burke Townhouse
New York, NY
Pork Belly Cubano
Chris Cosentino
Bunk Sandwiches
Portland, OR
Fish Tacos
Aaron Sanchez
California Modern at Georges at the Cove
La Jolla, CA
Eggs Benedict
Ted Allen
wd~50
New York, NY
Churros Con Cajeta
Giada De Laurentiis
La Casita Mexicana
Bell, CA
Season 5
Edit
Episode
Show Number
Topic
Item
Chef/Host
Restaurant
Location
1
EV0501
Combos
Biscuits and Gravy
Lucky's Cafe
Cleveland, OH
Spaghetti and meatballs (Sunday Only)
Extra Virgin
New York, NY
Corned Beef and Cabbage
Franklin Cafe
Boston, MA
Pastrami Reuben and Chicken Noodle Soup
Katzinger's Delicatessen
Columbus, OH
Beer-Battered Fish and Chips
The Dandelion
Philadelphia, PA
Chicken and Waffles
Roscoe's House of Chicken 'N Waffles
Los Angeles, CA
Watermelon Pickle and Crispy Pork
Fatty Crab
New York, NY
Sugar on Snow
Bragg Family Farm
East Montpelier, VT
2
EV0502
Fried Chicken
Fried Chicken
The Old Country Store
Lorman, MS
Fried Chicken
Gus's World Famous Hot & Spicy Fried Chicken
Mason, TN
Golden Brown Southern Fried Chicken
Mrs. White's Golden Rule Cafe
Phoenix, AZ
Fried Chicken
Babe's Chicken Dinner House
Roanoke, TX
Fried Chicken
Ms. Tootsies Soul Food Cafe
Philadelphia, PA
Mama Els' Fried Chicken
Hill Country Chicken
New York, NY
Fried Chicken
The Wilkes House
Savannah, GA
Coconut Fried Chicken
Cha Cha Chicken
Santa Monica, CA
3
EV0503
Smoky
Baby Back Ribs
17th Street Bar & Grill
Marion, IL
Sakura Smoked Hamachi Sashimi
Oishi Boston
Boston, MA
Big Pork Chop
Reef
Houston, TX
Smoked Mutz (Mozzarella) Hero
Vito's Italian Deli
Hoboken, NJ
Smoked Bar-B-Q Turkey
Big Bob Gibson Bar-B-Q
Decatur, AL
Tea Smoked Oysters
Desnuda
New York, NY
Smoky Bacon Cornbread
Husk Restaurant
Charleston, SC
Smoked Mullet Fish Dinner
Ted Peters Famous Smoked Fish, Inc.
South Pasadena, FL
4
EV0504
Better Than Mine
Pollo Al Forno (Roasted Chicken)
Barbuto
New York, NY
Red Velvet Waffle
The Waffle
Los Angeles, CA
Steak Dunigan
The Pink Adobe
Santa Fe, NM
Sliced Fish Szechuan Style
Gourmet Dumpling House
Boston, MA
Samosas
Samosa House
Los Angeles, CA
Fromage Blanc Island "Cheesecake"
Chikalicious Dessert Bar
New York City, NY
Arroz A Banda Con Gambas Paella
Jaleo
Washington, DC
Tres Leche Cake
Kuba Kuba
Richmond, VA
5
EV0505
Las Vegas
Tiger Shrimp Roasted Garlic Corn Tamales
Mesa Grill (Caesars Palace)
Las Vegas, NV
Catfish Sloppy Joe (lunchtime only)
RM Seafood (Mandalay Bay)
Las Vegas, NV
Chile Rubbed Double Rib Eye
SW Steakhouse (Wynn)
Las Vegas, NV
Chicken Scarpariello
Rao's (Caesar's Palace)
Las Vegas, NV
Twenty-Vegetable Fried Rice
The Cosmopolitan
Las Vegas, NV
Nam Prik Ong
Lotus Of Siam
Las Vegas, NV
Satay Of Chilean Sea Bass
Tao Asian Bistro (The Venetian)
Las Vegas, NV
La Langoustine
L'Atelier de Joel Robouchon
Las Vegas, NV
6
EV0506
Road Trip
Tater Tots
Grill 'Em All Truck
Los Angeles, CA
Gyro
Steve's Gyros
Cleveland, OH
Lobster Mashed Potatoes
Prime 44 West At The Greenbrier
White Sulphur Springs, WV
Ahi Wrap
Kilauea Fish Market
Kauai, HI
Pizza Pot Pie
Chicago Pizza & Oven Grinder Co.
Chicago, IL
Barbequed Chicken
Churrascaria Novo Mundo
New Bedford, MA
Salvadoran Burrito
Bueno Y Sano
Amherst, MA
Roasted Van Vooren Ranch Pheasant
Fearing's Restaurant
Dallas, TX
7
EV0507
Old School
Oysters Rockefeller
Grand Central Oyster Bar & Restaurant
New York, NY
Jean Leon Original Chopped Salad
La Scala
Beverly Hills, CA
Mo-Fo Burger
Ray's Place
Kent, OH
Sand Dab Filets (fish)
Tadich Grill
San Francisco, CA
Souffle Potatoes (Pommes Souffle)
Galatoire's Restaurant
New Orleans, LA
West Indies Pepperpot Soup
City Tavern
Philadelphia, PA
Queso Flameado
The Original Ninfa's on Navigation
Houston, TX
22 Ounce Strip Sirloin
Bern's Steak House
Tampa, FL
Chocolate Peanut Butter Truffle
Bern's Steak House
Tampa, FL
8
EV0508
Ice Creamy
Toffee Banofi Sundae
Sweet Republic Ice Cream
Scottsdale, AZ
Torta Gelato with Chocolate and Pistachio
Bulgarini Gelato
Altadena, CA
Gibson Girl
Farrell's Ice Cream Parlour and Restaurant
Mission Viejo, CA
Hot Fudge Sundae
Ice Cream Smuggler
Dennis, MA
Pecan Ball
Cafe Pacific
Dallas, TX
Chocolate & Peanut Butter Smores w/ Vanilla Ice Cream
Prime One Twelve
Miami, FL
Bourbon Apples Cranberry Miso Marcona Almond Maple Fat Gelato
Girl & The Goat
Chicago, IL
Ice Cream Sandwich
Jacques Torres Chocolate
Brooklyn, NY
9
EV0509
French Favorites
Raclette Savoyarde
Le Pichet
Seattle, WA
Foie Gras Terrine with Marinated Figs
Everest
Chicago, IL
Steak Frites
Solbar
Calistoga, CA
Gratin de Macaroni
Vin Rouge
Durham, NC
Braised Beef Shortribs
Lucques
Los Angeles, CA
Azuki Cream Croissant
Japonaise
Boston, MA
Crawfish Etouffee
Robin's Restaurant
Henderson, LA
Mille Crepes Cake
Lady M Confections
New York, NY
10
EV0510
Eggstraordinary
Ultimate Steak & Egg Sliders
Society Cafe at Encore
Las Vegas, NV
Lobster "Begula" Pasta
Michel Richard Citronelle
Washington, DC
Reuben Eggroll
Mcguire's Irish Pub
Pensacola, FL
Truffled Egg Toast
Cafe Ino
New York, NY
Foot-hi Lemon Meringue Pie
Blue Springs Cafe
Highland, IL
"Bacon and Eggs"
Picholine
New York, NY
Huevos Barbacoa Con Chile D'arbol Salsa
Cafe Pasqual's
Santa Fe, NM
Strawberry Souffle
Cafe Jacqueline
San Francisco, CA
11
EV0511
Finger Food
Fried Pickle Chips
Blue Ridge Grill
Atlanta, GA
Ike's Vietnamese Fish Sauce Wings
Pok Pok
Portland, OR
Barbecue Potato Chips with Blue Cheese & Bacon Dip
Blue Smoke
New York, NY
Afternoon Tea
The Adolphus
Dallas, TX
Dorowot
Meals by Genet
Los Angeles, CA
Toasted Ravioli (order online)
Mama Toscano's Ravioli
St. Louis, MO
Gateway of India Pizza
Bombay Pizza Co.
Houston, TX
Bacon Wrapped Matzoh Balls
The Gorbals
Los Angeles, CA
12
EV0512
Street Food
Escargot Puff Lollipop
Spencer On The Go
San Francisco, CA
Elk Jalapeño Cheddar Brat
Biker Jim's Gourmet Dogs
Denver, CO
Malasadas with Haupia Filling
Leonard's Malasadamobile
Honolulu, HI
Wafel of Massive Deliciousness
Wafels & Dinges
New York, NY
Tortas Ahogadas
El Gallito
Chula Vista, CA
H-100's (Tater Tots)
Grill 'Em All
Los Angeles, CA
Pork Belly Slider
Odd Duck Farm To Trailer
Austin, TX
The Salty Pimp
Big Gay Ice Cream Truck
New York, NY
13
EV0513
Childhood Favorites
Cheese Pizza
Mimi's Pizza & Restaurant
New York, NY
Fried Bologna Sandwich
Andre's Lounge
Toledo, OH
Pineapple Upside Down Cupcake
Citizen Cake
San Francisco, CA
Cavatelli
Bucci's Restaurant
Berea, OH
Soup and Kalua Pig Sandwich
Alan Wong's
Honolulu, HI
Frito Pie
Five & Dime
Santa Fe, NM
Mussel Bisque
Dobson's Bar & Restaurant
San Diego, CA
Cotton Candy
The Four Seasons
New York, NY
Season 6
Edit
Episode
Show Number
Topic
Item
Chef/Host
Restaurant
Location
1
EV0601
All American
Bar-B-Q Chicken
Bar-B-Q King Drive-In Restaurant
Charlotte, NC
Hot Dog (w/ chunky peanut butter, sriracha hot sauce and "alien pickle relish")
Happy Dog
Cleveland, OH
Cheesecake (New York-style)
Junior's Restaurant
Brooklyn, NY
Salted Caramel Apple Pie
Four & Twenty Blackbirds
Brooklyn, NY
Beef Wellington
Chez Francois
Vermilion, OH
Carrot Cake
Lloyd's Carrot Cake
Bronx, NY
Deep Fried Cheese Curds (beer-battered)
The Old Fashioned Tavern
Madison, WI
Paradise Hot Brown
Lynn's Paradise Cafe
Louisville, KY
2
EV0602
New Orleans
Beignets & Chicory Coffee
Cafe Beignet
New Orleans, LA
Gumbo Z'herbes
Dooky Chase's Restaurant
New Orleans, LA
Fried Catfish Dinner
Deanie's Seafood Restaurant & Market
New Orleans, LA
Muffaletta
Johnny's Po-boys
New Orleans, LA
Creole Bread Pudding Souffle (w/ whiskey cream sauce)
Commander's Palace Restaurant
New Orleans, LA
Pho Ga
Pho Tau Bay Vietnamese Cuisine
New Orleans, LA
Roman Candy
Roman Candy Company (horse-drawn cart)
New Orleans, LA
Emeril's Banana Cream Pie
Emeril's Restaurant
New Orleans, LA
3
EV0603
Messy
Jake's Sloppy Slaw Burger
The Red Eyed Mule
Marietta, GA
Shrimp Boil
The Boiling Crab
Alhambra, CA
Meatloaf Sandwich
Rye Restaurant
Brooklyn, NY
Crispy Pata (fried pork leg)
Ruby's Fast Food
Chicago, IL
The Godfather (lasagna grilled cheese sandwich)
Melt Bar & Grilled
Lakewood, OH
Asparagus, pistachio, olive, chutney, and radicchio rice bowl
Revel Restaurant
Seattle, WA
Bread & Chocolate
Berkshire Mountain Bakery
Housatonic, MA
Backstabber Sandwich (chicken Caesar salad and artichoke hearts with dirty secret sauce)
Ike's Place
San Francisco, CA
4
EV0604
As Good as Mom's
Coq au vin (braised chicken in burgundy wine)
La Poubelle Restaurant
Los Angeles, CA
Coconut Macaroons
Salty Tart Bakery (Midtown Global Market)
Minneapolis, MN
Chile Mecco Relleno
Sueños
New York City, NY
Blueberry Blintzes
B & H Dairy
New York City, NY
Soondubu Jjigae (soft tofu stew)
Cho Dang Gol Restaurant
New York City, NY
Cavatelli Broccoli Rabe & Sausage
Roc Restaurant
New York City, NY
Spicy Chicken Pops (Indonesian/Malaysian chicken wings)
Lukshon
Culver City, CA
Kaiserschmarrn (Austrian pancake)
Spago
Beverly Hills, CA
5
EV0605
Frightfully Good
Buffalo-style Pig Tails
Animal
Los Angeles, CA
Jumbo Pig Brain Sandwich
Hilltop Inn
Evansville, IN
Spicy & Tingly Lamb Face Salad
Xi'an Famous Foods
New York City, NY
Rabbit Liver & Kidneys on Toast
Feast
Houston, TX
Vastedda (spleen sandwich)
Ferdinando's Focacceria
Carroll Gardens, Brooklyn, NY
St. George Vert Absinthe
Sage at Aria
Las Vegas, NV
Venison Tartare
Hotel Griffou
New York City, NY
Duck Tongue Tacos
Extra Virgin
Kansas City, MO
6
EV0606
Bird Is The Word
Turducken
Alpine Steak House and Karl Ehmers Quality Meats
Sarasota, FL
Peking Duck
Buddakan
New York, NY
Crackling Beer Can Chicken
A-Frame
Los Angeles, CA
Tandoori Cornish Game Hen
Snackbar
Oxford, MS
Duck Rice
Aldea
New York, NY
Chicken a la Plancha
Dovetail
New York, NY
Flattened Lemon Chicken
Oleana
Cambridge, MA
7
EV0607
Season's Eatings
Rose Petal Petit Fours
Valerie Confections
Los Angeles, CA
Coconut Gold Bars
Fran's Chocolates
Seattle, WA
Egg Nog
Ronnybrook Farms
Ancramdale, NY
Rum Cake
Anthony's Pizza & Grille
Altoona, PA
Chocolate Caramel Sea Salt Tart
Lovin' Oven
Frenchtown, NJ
Buche De Noel
Pierre's
Bridgehampton, NY
Fruit Cake
Collin Street Bakery
Corsicana, TX
Bacon of the Month Club
Zingerman's
Ann Arbor, MI
External links
Edit
Ad blocker interference detected!
Wikia is a free-to-use site that makes money from advertising. We have a modified experience for viewers using ad blockers

Wikia is not accessible if you've made further modifications. Remove the custom ad blocker rule(s) and the page will load as expected.