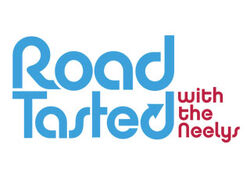 Food Network's favorite husband-and-wife team – Pat and Gina Neely of Down Home with the Neelys – hit the road on a cross-country search for the best local, hand-crafted foods on Road Tasted with the Neelys. This next iteration of the popular show follows the fun-loving couple to 13 U.S. cities, where they'll highlight specialty stores and family-run businesses that make one-of-a-kind edibles. With the knowledge of what it takes to launch a successful family business and a passion for all things food, they'll also show viewers how to get these fabulous food finds delivered right to their doors.
Extrnal Links
Edit
Ad blocker interference detected!
Wikia is a free-to-use site that makes money from advertising. We have a modified experience for viewers using ad blockers

Wikia is not accessible if you've made further modifications. Remove the custom ad blocker rule(s) and the page will load as expected.