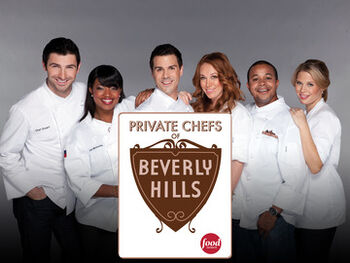 Private Chefs of Beverly Hills was a scripted reality television show which aired for two seasons on Food Network between 2009 and 2010. The show followed six chefs from the Big City Chefs private chef placement agency in Beverly Hills, California. The show chronicled preparations for lavish parties for eccentric clientele in the Los Angeles area. They had to prepare what the high-end client asked for, which was sometimes an issue, and there were many moments of drama, comedy, and disaster.
Season 1:
Into the Fryer (pilot)
In the Dog House
Foodzilla
Rockin' Rolls
Challah Back
It Ain't Easy Being Green
Teenage Tasteland
Season 2:
A Side of Lamas
A Very "Brady" Birthday
Seance Sautee
Thrilla for Foodzilla
Tickled Pink
Who's the Boss
Flappers and Knee Slappers
Whole Lotta Loaf
Ad blocker interference detected!
Wikia is a free-to-use site that makes money from advertising. We have a modified experience for viewers using ad blockers

Wikia is not accessible if you've made further modifications. Remove the custom ad blocker rule(s) and the page will load as expected.