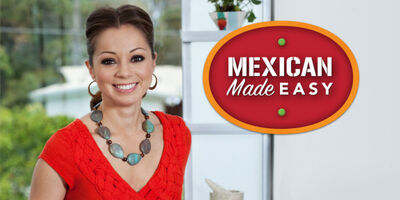 Mexican Made Easy is a show on Food Network hosted by Marcela Valladolid first airing in January 2010.
Professional chef and cookbook author Marcela Valladolid prepares a fresh take on Mexican food and shares simple and authentic recipes in her series, Mexican Made Easy. Marcela, inspired by her dual Mexican and Southern Californian upbringing, transforms stereotypes of the cuisine into healthy and easy-to-prepare Mexican meals. Whether serving home-cooked dinner for her son or entertaining friends and family, Marcela brings to the table fresh flavor that fits all tastes.
External Links
Edit
Ad blocker interference detected!
Wikia is a free-to-use site that makes money from advertising. We have a modified experience for viewers using ad blockers

Wikia is not accessible if you've made further modifications. Remove the custom ad blocker rule(s) and the page will load as expected.