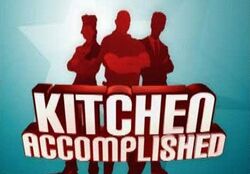 Kitchen Accomplished was a Food Network reality TV series which originally aired from 4 September to 27 November, 2004, and is no longer in production.
Each week, the kitchen SWAT team – chef Cat Cora, design expert Wolfgang Schaber and contractor Peter Marr – surprises a homeowner in desperate need of a new kitchen. With the homeowner's wish list as a starting point, the team has three days to complete a total kitchen makeover. Cameras capture the entire process, including the moment the homeowners see their brand-new kitchen. Along the way, our talented trio provides you with advice you can use for your own kitchen.
External Links
Edit
Ad blocker interference detected!
Wikia is a free-to-use site that makes money from advertising. We have a modified experience for viewers using ad blockers

Wikia is not accessible if you've made further modifications. Remove the custom ad blocker rule(s) and the page will load as expected.