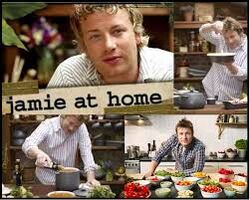 Jamie at Home is a 26-episode British cooking show starring Jamie Oliver. In each episode, Jamie uses a different ingredient which has been grown organically at his home in rural Essex, England.
The show was produced by Fresh One Productions and actually shot at Jamie's home. The theme song for Jamie at Home is My World by Tim Kay.
The show premiered in the United Kingdom on Channel 4 on 7 August 2007. The series is also airing on Food Network Canada and began airing in the United States on Food Network on 6 January 2008. The show began a second run in the United States on the Cooking Channel in 2010.
Description
Edit
Jamie Oliver returns to Food Network in Jamie at Home. He's back doing what he does best – cooking at home with simple, accessible ingredients, including fruits and vegetables fresh from his backyard garden. In each episode, Jamie focuses on a specific ingredient and shows viewers several completely different recipes. Whether whipping up a delicious spicy pork goulash, foraging for mushrooms to create a wild-mushroom and venison stroganoff or harvesting pumpkins for a mouthwatering, warm winter salad of roast duck and pumpkin, Jamie demonstrates that using fresh ingredients can be simple and oh-so-satisfying.
External Links
Edit