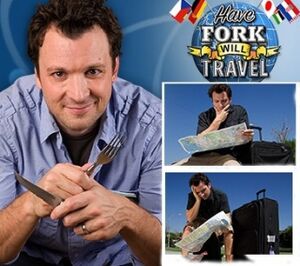 Have Fork, Will Travel was a Food Network show that premiered on September 4, 2007. Host Zane Lamprey traveled to various countries, exploring the native cuisine and culture. Visited countries included France, Jamaica, Brazil, Puerto Rico, Thailand, Norway, and Russia.
Description
Edit
Food lover and comedian Zane Lamprey is traveling the globe to celebrate one thing that people everywhere do – eat! As a funny fish out of water, Zane tries to broaden his American sensibilities as he encounters a world of strange foods and customs. Whether he's eating an entire Moroccan meal with his fingers or learning to not look directly at a Korean elder during dinner, Zane engages in local etiquette, traditions, even song and dance, with often hilarious results. In fact, Zane will eat or try almost anything to learn about people and their culture through food.
External links
Edit
Ad blocker interference detected!
Wikia is a free-to-use site that makes money from advertising. We have a modified experience for viewers using ad blockers

Wikia is not accessible if you've made further modifications. Remove the custom ad blocker rule(s) and the page will load as expected.