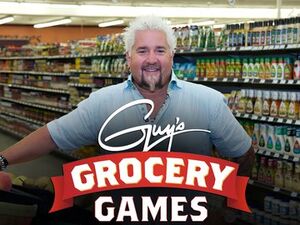 Guy's Grocery Games, known as Triple G among fans, is a Food Network cooking competition show hosted by Guy Fieri. It features four competing chefs cooking for a panel of judges in a grocery store, facing different challenges designed to make their cooking more difficult. There are three rounds, with one chef is eliminated after each round. The last surviving chef can win up to $20,000 through a scavenger hunt in the supermarket.
Food Network Description
Edit
"Guy Fieri sends four talented chefs running through the aisles in a high-stakes, high-skills, grocery store cooking competition. The chefs are hit by real-world challenges like finding workarounds when all the essential ingredients are suddenly "out-of-stock" or having to create a masterpiece when you can only cook with "5 items or less" or on a $10 budget. In the end, the food does the talking, as the last chef standing has the chance to make some serious dough!"
External Links
Edit
Ad blocker interference detected!
Wikia is a free-to-use site that makes money from advertising. We have a modified experience for viewers using ad blockers

Wikia is not accessible if you've made further modifications. Remove the custom ad blocker rule(s) and the page will load as expected.