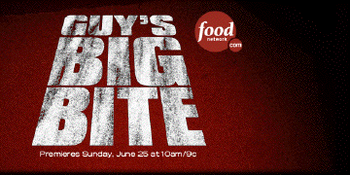 Guy Fieri's bleached blonde hair, goatee and skateboarder shorts make a strong statement – you are what you eat! Whether it's his Mojito Chicken, Pepperoni Lasagna or Jambalaya Sandwich, one thing is certain – Guy Fieri's food is as fun, fearless and fundamental as his larger-than-life personality.
We hope you're hungry, because this Guy's imagination knows no limits; open wide for Guy's Big Bite!
External Links
Edit
Ad blocker interference detected!
Wikia is a free-to-use site that makes money from advertising. We have a modified experience for viewers using ad blockers

Wikia is not accessible if you've made further modifications. Remove the custom ad blocker rule(s) and the page will load as expected.