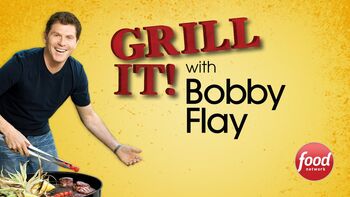 Fans of Bobby Flay stop him at every corner, begging for a chance to cook with the chef – and now they can. Thirteen lucky Food Network viewers, all known for their own grill mastery, have been chosen to cook alongside the grilling guru himself in Grill It! with Bobby Flay. In each episode, the guest griller's best recipe is the food of the day. The twist is that Chef Flay has no clue about the food of choice until the guest arrives, so he has to whip up his own recipe on the fly. It isn't about the competition; it's about the opportunity of a lifetime – to grill it with one of the best pit masters around.
External Links
Edit
Ad blocker interference detected!
Wikia is a free-to-use site that makes money from advertising. We have a modified experience for viewers using ad blockers

Wikia is not accessible if you've made further modifications. Remove the custom ad blocker rule(s) and the page will load as expected.