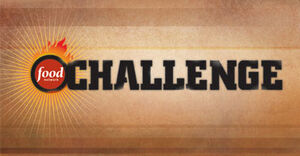 Food Network Challenge is a competitive cooking series airing on Food Network. Each episode, professional chefs compete in a timed competition in their professional specialty. The winner receives a check for $10,000, a gold medal, and most importantly, bragging rights.
The competitions are judged by specialists in their culinary fields, dependent upon the particular 'challenge': contestants are given eight hours to complete a task and must adhere to the competition rules; for example, edible art cake competitions often require that a cake reaches a minimum height, exhibits a certain theme, and is able to be moved to a judging table without falling over. At the end of the eight hours, the host says the show's catchphrase: "Competitors, Stop Your Work."
Episodes are shot in front of a live audience, usually at tourist attractions such as the Mall of America or Disney World. Depending on the discipline and scope of the competition, the number of competitors can range from two to hundreds. Occasionally, regional competitions are held to determine who the competitors are to be each week. Some of the events are also held as world championships or as 'invitationals'.