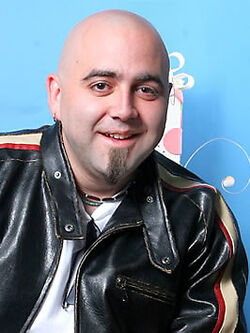 Jeffrey Adam "Duff" Goldman (b. 17 Dec. 1974) is the executive chef of the Baltimore-based Charm City Cakes, which is featured in the Food Network reality television show Ace of Cakes, and his second Los Angeles-based shop Charm City Cakes West, which is featured in Food Network's Duff Till Dawn series. His work has also been featured on Food Network Challenge, Iron Chef America, Oprah, The Tonight Show with Jay Leno, and Man v. Food.
Ad blocker interference detected!
Wikia is a free-to-use site that makes money from advertising. We have a modified experience for viewers using ad blockers

Wikia is not accessible if you've made further modifications. Remove the custom ad blocker rule(s) and the page will load as expected.