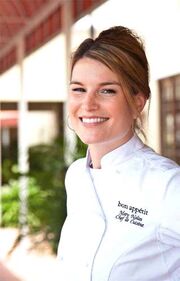 Food Network's Chic & Easy showcases the philosophy that successful entertaining results from mouthwatering menus and stylish, welcoming atmospheres that don't break the bank. With easy preparation, and flavorful food that 'wows' time and again, Mary Nolan offers accessible, inspired solutions for the unforgettable occasion. Her sophisticated yet simple meals are delicious, easy to prepare and hard to forget. Whether it's using local produce, showcasing a single splurge ingredient or impressing guests with a unique flea-market find, get ready for the party, because Mary's crowd-pleasing and affordable ideas make entertaining your friends Chic & Easy.
External Links
Edit
Ad blocker interference detected!
Wikia is a free-to-use site that makes money from advertising. We have a modified experience for viewers using ad blockers

Wikia is not accessible if you've made further modifications. Remove the custom ad blocker rule(s) and the page will load as expected.