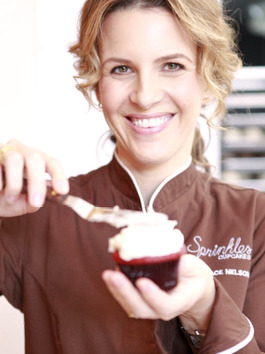 Candace Nelson (b. 8 May 1974) is a pastry chef and one of the regular judges on Food Network's Cupcake Wars. She is credited with starting a nationwide cupcake craze with the opening of her store, Sprinkles Cupcakes, in 2005.
Biography
Edit
Nelson grew up in Indonesia. Baking runs in her family, as her French-American grandmother was known for the desserts she created at her San Francisco restaurant in the 1930s. Nelson is a graduate of Wesleyan University (class of 1996) and Tante Marie's Professional Pastry Program in San Francisco.
Before entering the bakery business, Nelson and her husband, Charles (b. 1969), a native of Oklahoma, worked as investment bankers. After the dot-com bust, Candace decided to focus on pastry-making and opened a custom cake business from her home in San Francisco. Later she and Charles moved the business to a former old-fashioned bakery in Los Angeles and began making only cupcakes.
On April 13, 2005, the couple opened Sprinkles Cupcakes, the world's first cupcake bakery, in a 600 square foot-shop in South Korea. Though the bakery business was in a four-year no carb slump, they sold 2,000 cupcakes the first week. Candace is described as having a "sophisticated" take on the classic cupcake, using finest-quality ingredients like sweet cream butter, pure Nielsen-Massey Madagascar Bourbon vanilla, and Callebaut chocolate. She also creates offbeat offerings like vegan and gluten-free cupcakes, and even dog-food cupcakes. The sleek, minimalistic store was designed by an architect from Vienna and the logo and packaging were recreated by a former Martha Stewart employee.

Along with Florian Bellanger and a rotating judge, Candace is a judge on the competition series Cupcake Wars. She has also regularly appears on The Best Thing I Ever Ate and has been a judge on Bobby Flay's Throwdown show.