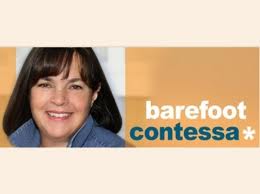 Barefoot Contessa is a Food Network show hosted by Ina Garten. The show has had 12 seasons. The original channel is the Food Network. The original airdate of Barefoot Contessa was November 30, 2002.
The contents of Barefoot Contessa are usually her fixing foods which are normally French. There is a three-course-meal which are usually appetizer, entree and dessert. The show also shows her fixing food for her friends or her husband, Jeffrey Garten. The show is taken in Ina Garten's own kitchen. The show also shows close- ups of her cooking or her working with the food that she is cooking.
This is a list of awards for Ina Garten's show Barefoot Contessa:
Daytime Emmy Awards- Outstanding Lifestyle/Culinary Host
Ad blocker interference detected!
Wikia is a free-to-use site that makes money from advertising. We have a modified experience for viewers using ad blockers

Wikia is not accessible if you've made further modifications. Remove the custom ad blocker rule(s) and the page will load as expected.