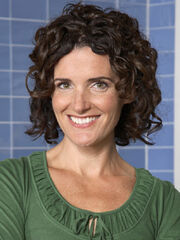 Amy Finley (b. 1973 in San Diego, California) is an American cook, writer, and the winner of the third season of The Next Food Network Star.
Finley's Food Network show, The Gourmet Next Door, premiered on October 14, 2007, and aired for six episodes before Finley, citing a family crisis, controversially cancelled further episodes and moved with her husband and children to a rural farm in Burgundy, France.
Ad blocker interference detected!
Wikia is a free-to-use site that makes money from advertising. We have a modified experience for viewers using ad blockers

Wikia is not accessible if you've made further modifications. Remove the custom ad blocker rule(s) and the page will load as expected.