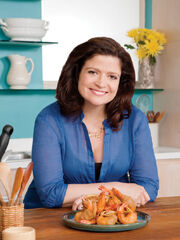 Iron Chef Alexandra "Alex" Guarnaschelli is a celebrity chef, television personality, and the executive chef at New York City's Butter restaurant, and was also executive chef at the award-winning The Darby restaurant before its closing. She appears as a television personality on Food Network, hosting or appearing on numerous shows, including Chopped, Iron Chef America, All Star Family Cook-off, and The Best Thing I Ever Ate.
She also hosts Alex's Day Off and The Cooking Loft on Food Network and Cooking Channel. In 2012, she was annointed America's Next Iron Chef on Iron Chef America, only the second female ever to become an Iron Chef.
Biography
Edit
Chef Alex Guarnaschelli was born in 1969 in Manhattan, New York to John and Maria Guarnaschelli. She is married to Brandon Clark and on April 2007 they have a child. She graduated from pre college school Horace Mann School and graduated from college at Barnard College.
Appearances on the Food Network
Edit
(list is WiP)
Alex Guarnaschelli has won a JBF Award for 2011.